Cyclonic wellhead desander are designed to remove sands and solids present in well fluids. Cyclonic wellhead desanders are the essential equipment for sand removal and downstream equipment. Cyclonic desander apply centrifugal (axial) and gravitational forces to perform solid separation. Cyclonic desander is the first sand management equipment on the surface where gases and fluids comes to contact with surface equipment after wellhead Christmas trees.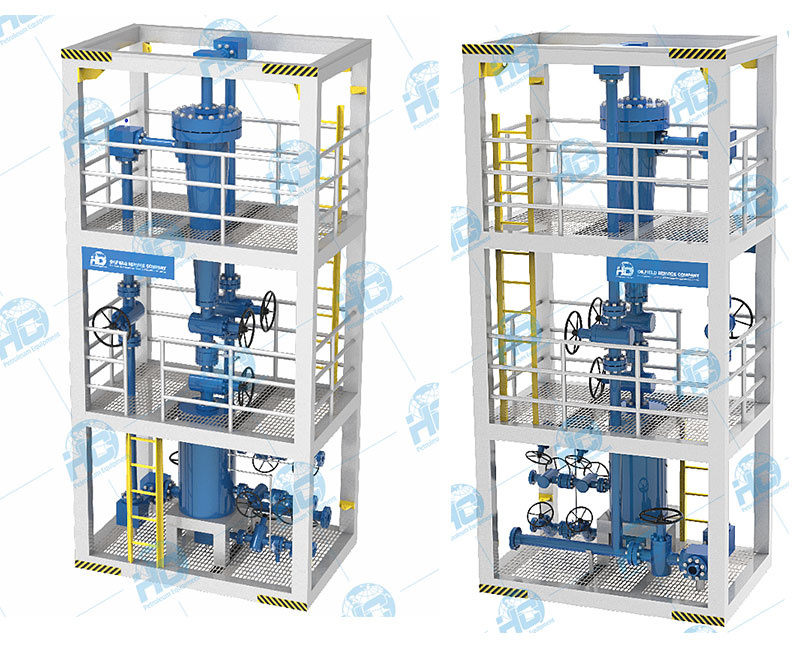 Cyclonic wellhead desanders are applied where flow pressure is between 1440 psi and 15000 psi. We design desander vessel and accumulator as per ASME and API standards. Cyclonic desander has special cyclonic insert made from stainless steel, special duplex steel with tungsten carbide or other enforcing coating to ensure longer operation life. Desander insert can be replaced with new after current insert is spent. Time of insert replacement depends on the period of operation and operation hours, as well as volatility of the working media. Construction material of desander vessel, sand-solid accumulator, piping and valves are usually carbon steel, while other special construction materials are offered based on the client's requirements and commotion of the working media. We conduct process calculation to ensure desander handles given flow rate from min. to max., we conduct mechanical calculations to ensure construction withstand pressure and temperature of the working and environment conditions. Piping and instrumentation design will ensure that flow is directed and controlled properly. Desanders are usually equipped with instruments, such as pressure gauges, temperature gauges, differential pressure gauges, and other probes and transmitters based on the client's requirements. Sand probes and transmitters are provided as optional features of the desanding unit. Skid is manufactured from construction carbon steel to ensure convenient transportation and installation of the cyclonic desanders. Some offshore oilfield service companies may request DNV certification for skid, and additional requirements for space-saving feature of the steel structure of the desander. We ensure that desanders are manufactured based on the client's requirements for process, working and environment condition, as well as space requirements.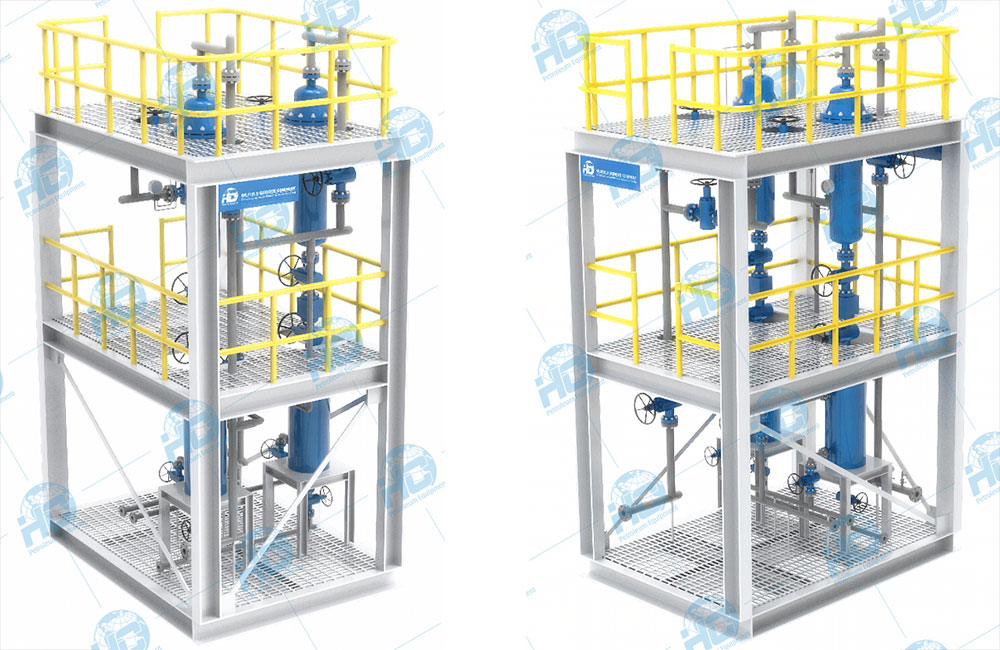 HC Petroleum Equipment designs and fabricated cyclonic wellhead desander as well as other sand and solid management equipment, feel free to contact HC Petroleum Equipment in case of any inquiry or technical assistance need concerning cyclonic wellhead desander. We ensure mechanical performance, high efficiency solid separation rate, fast delivery and favorable price for cyclonic wellhead desanders.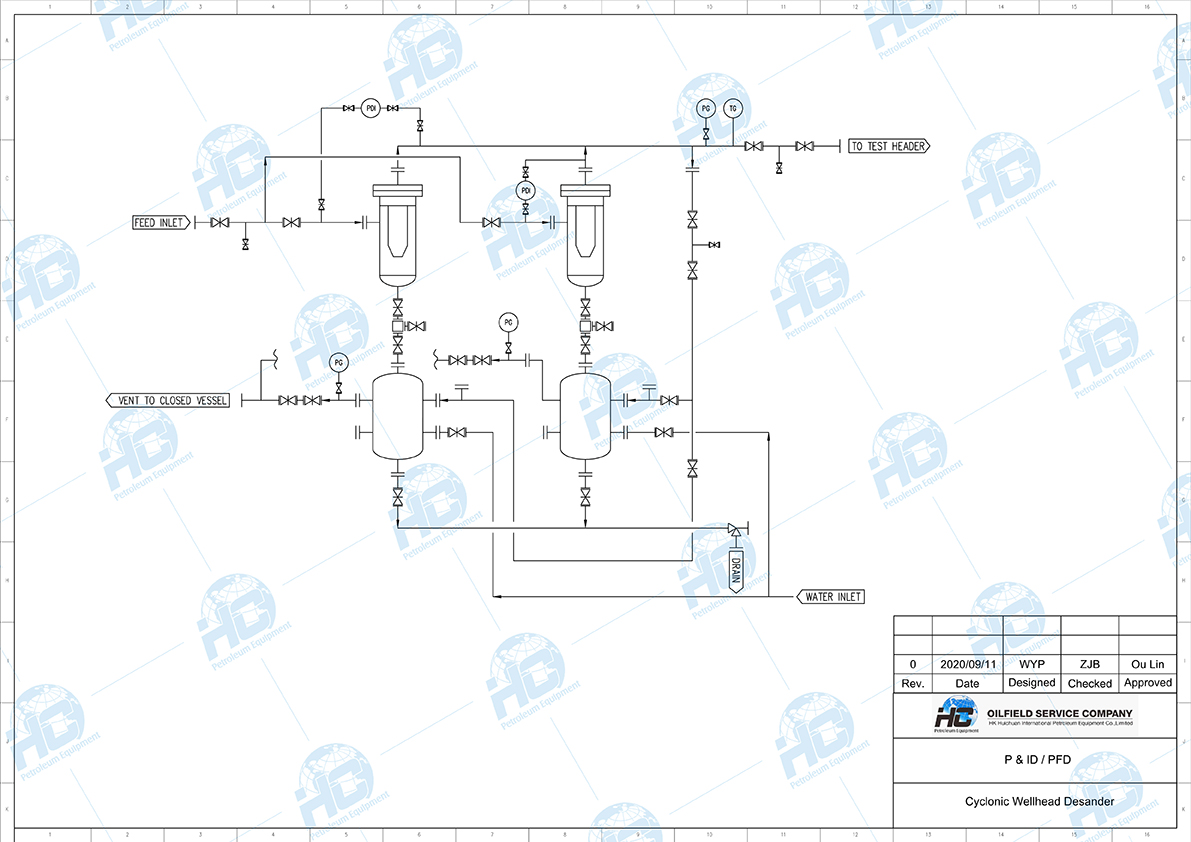 Features and advantages

- Mechanical performance
- Process performance (around 97%)
- Sand probes and transmitters
- Space-saving skid
- Lighter structure to meet quality performance
- Certified materials and professional welding and assembly
- Easy operation and maintenance
- Compliance with ASME, API, NACE, DNV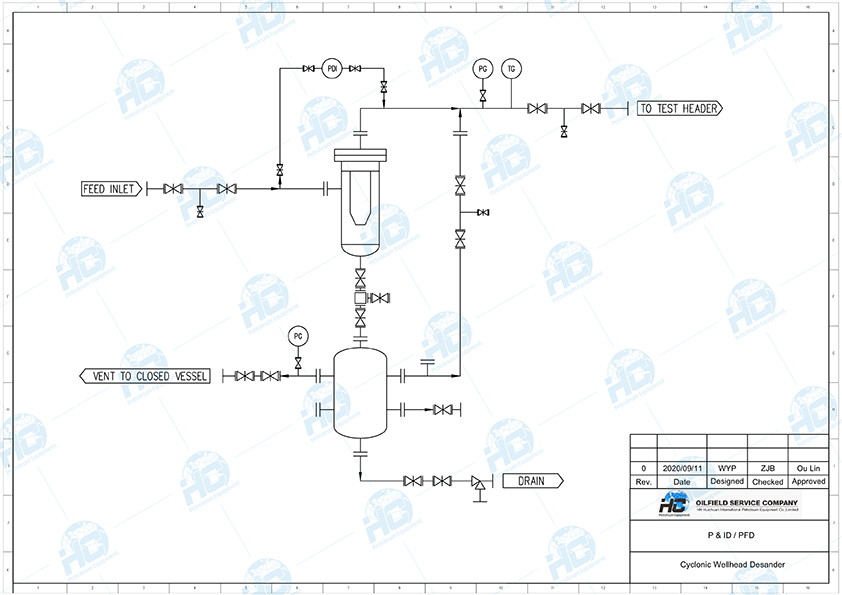 Basic technical parameters

- Gas flow rate up to 100 MMCFD
- Liquid flow rate up to 10000 BOPD
- Design pressure up to 15000 psi
- Test pressure 1.5 times of working pressure
- Working temperature down to minus 40 degrees
- Efficiency 94-97%