HC Petroleum Equipment also designs and fabricates 3 & 4-phase test separator skid with dual gas metering lines. Gas Outlet Line, usually 6 in. has a 3-inch branch line which accommodates 3-inch orifice plate and fittings, control valve with pressure controller, ball valves and meter run. During well test operations, operator can close ball valve of 6-in gas outlet line, while opening 3-inch branch gas outlet line. Dual gas meter structure for gas measurement allow well test operator to conduct several maneuvers to obtain more precise data of gas flow behavior. Each gas outlet line is equipped with 3 in. 600/900 LB orifice plate & fittings, 2-inch and 3-inch 600/900 LB Control Valve with Pressure Controllers, meter runs designed as per AGA regulations, quality ball valves with stainless-steel internals, several port nozzles for connecting instruments of Data Acquisition System. Both gas outlet lines then connected to main 4-in outlet line, where gas flows out of test separator, heading to flaring system.
This kind of horizontal test separators with dual gas metering methods have the same functionality as other test separators; separate well fluids into three phases, gas, oil, and water, then measure pressure, temperature, and flowrate for further analysis. Some clients request 2-phase separator for gas-liquid separation and measurement only, while some client may request 4-phase separators for better sand management. HC designs separators for 800, 1440, 2160 psi pressure rating using famous brand quality components. Separator vessel, piping, valves, and instruments can be manufactured from special materials applicable in H2S-containing wells. This type of separator is designed for sour service and the clients shall put forward these requirements during RFQ and placing an order.
HC offers customized design for test separators and complete surface well test packages. We cooperate with vendors of famous brand valves and instruments. Also, we can offer cost-effective solutions with combination of famous brand and Chinese components. HC is experienced and professional supplier and manufacturer of test and production separators from China. Feel free to contact us if you have a demand for separator modules as well as other oilfield machinery. We have wide range of solutions for onshore, offshore, and trailer-mounted well test systems.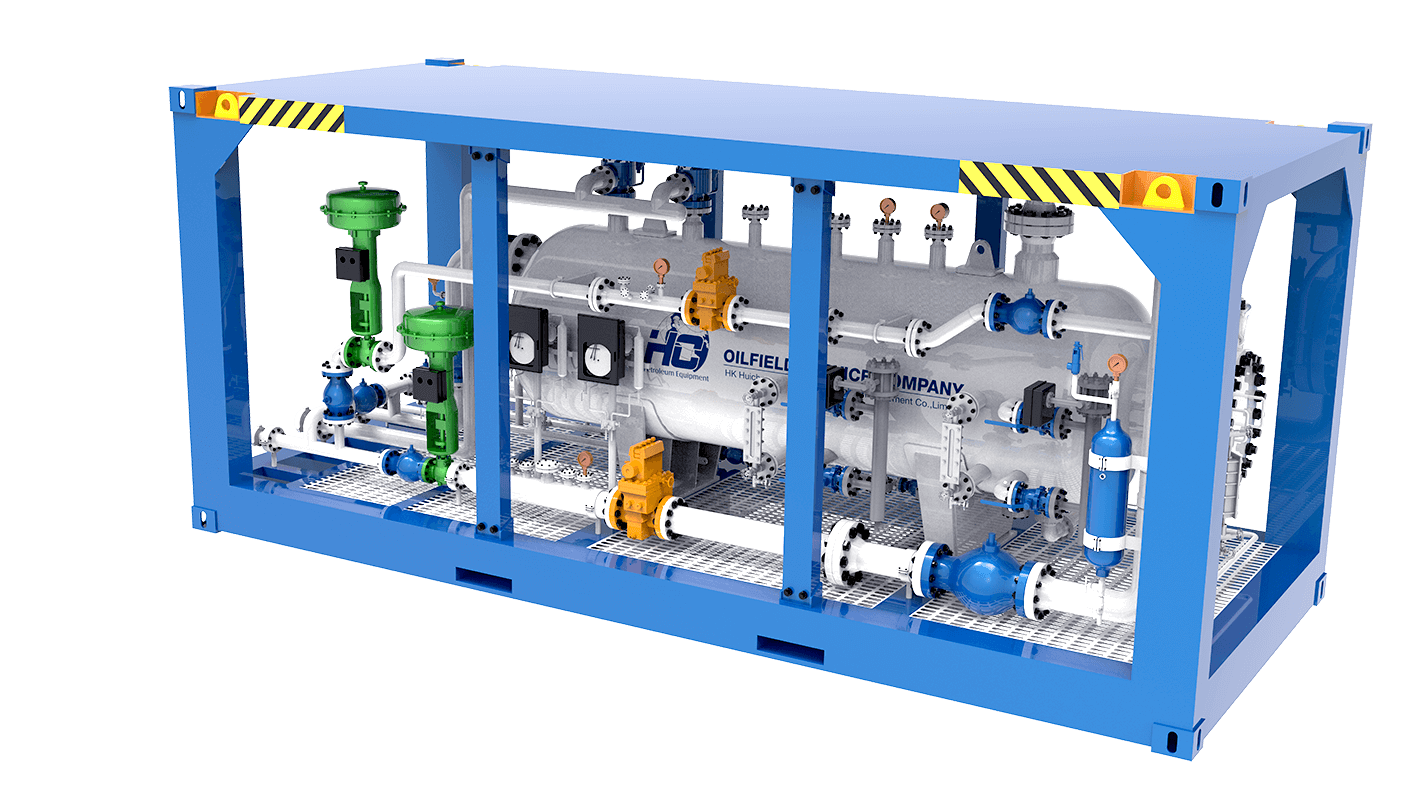 Conventional Test Separator consists of following parts:
· Separator Vessel with internals
· Control Valves
· Pressure Controller
· Level Controller
· Orifice Plate & Fitting (3-in, 600/900 LB x 1; 6-in, 600/900 LB)
· Chart Pen Recorder (2 nos.)
· Coriolis and/or turbine liquid flowmeters
· Relief Valves
· Level Gauges (Sigh glasses)
· Pressure Gauges
· Temperature Gauges and Thermowells
· Needle Valves
· Ball Valves
· Check Valves
· Shrinkage Tester
· Y-type trainer
· Union Connections
· Other auxiliary equipment
HC can design test separators for following services:
· Sour service
· Standard Service
· Heavy oil
· Extremely cold environment temperature
Vessel signings are:
· 30 in. x 10 ft.
· 36 in. x 10 ft.
· 42 in. x 10 ft.
· 48 in. x 10 ft.
· 42 in. x 15 ft.
· 48 in. x 12 ft.
HC is capable to design test separator based on the client's individual sizing and flowrate requirements
Skid size (L x W x H):
· 20 ft. x 8 ft. x 8.5 ft.
· 20 ft. x 8 ft. x 9.5 ft.
· 23 ft. 9.5 ft. x 10 ft.
HC is capable to design skid of separator based on the client's individual sizing and flowrate requirements
Applicable Code & Standards
· ASME VIII DIV 1
· API 12J
· API 6D
· API RP 520
· CE/PED
· NORSOK
· NACE MR0175
· DNV 2.7-1
HC Petroleum Equipment is a leading engineering and manufacturing company which specializes in oil & gas separators. HC has strong manufacturing facilities in China. Feel free to contact us for price, delivery period and technical assistance.