HC's Oil & Gas Production Separator is designed to separate well fluids into two or three phases and widely used in oilfield facilities. To achieve high separation efficient, production separators are designed considering several principles, such as gravity, coalescing, and momentum. HC also designs production separators with heating system, allowing better separation during handling heavier crudes, and working in cold environment.
Oil & Gas Production Separators are usually horizontal gas-liquid separation units, which consist of horizontal pressure vessel with separator internals, several types of gauges, valves, ESD system, skid, steel structures, and other beneficial features, which allow safe and easy operation. Based on the client's requirements to automation and control, HC can design both mechanically automated and digitally automated production separators.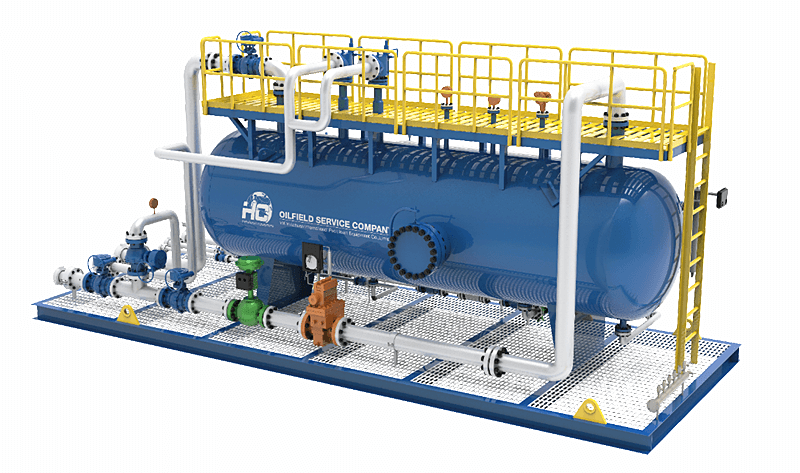 Mechanically automated production separators have pneumatic mechanical controllers, pressure mechanical controllers, control valves, regulators, air and control instrumentations. All controllers are calibrated after production and during commissioning, so after sensing increased pressure or level than calibrated parameters, air is supplied to required control unit to make control valve regulate flow of all main process lines. Digitally automated production manifold applies digital level, temperature and pressure transmitters, which sends signal to controllers, which activate control valves and other instrumentation to regulate flow as per required parameters. Pneumatically operated instruments and valves require supply of compressed air to the instrument. HC offers quality assembly of stainless-steel piping and fitting for air supplying on separator. We design compressed air lines, air inlet/distribution manifolds and air scrubbers installing on a skid and allowing operator easy access and operation.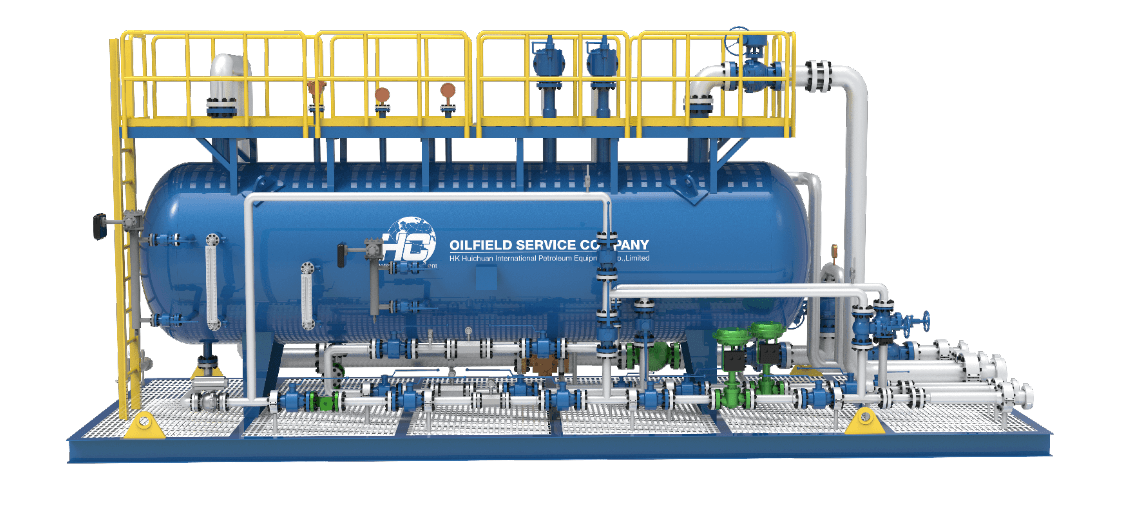 HC's production separators also have several safety devices, such as pressure relief valves, burst discs, ESD ball valve, high temperature and pressure transmitters, which ensure safety of personnel and equipment during emergency. Convenient frame and steel structures are suitable both for road and sea transportation. Steel structures are designed considering the total weight of transportation, as well as calculation to strength and payload.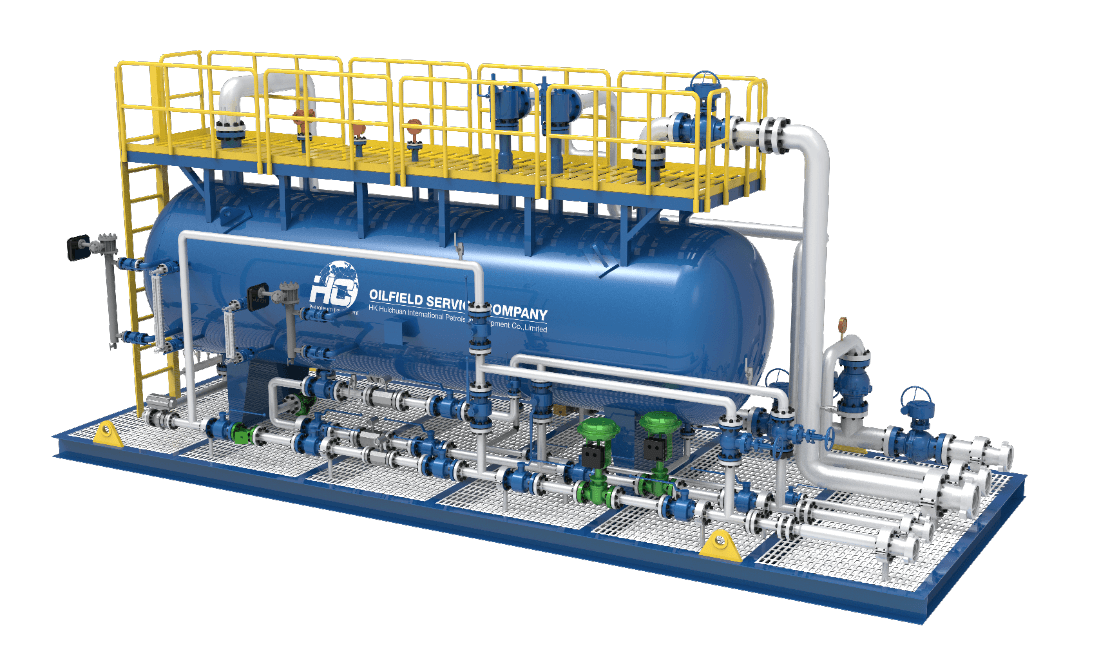 Pressure Vessel for Production Separators shall be designed considering many factors, such as pressure, temperature, composition, required separation efficiency range, positions of the nozzles, position of internals, locations of all nozzles, operation and maintenance distinguishing characteristics, etc. Separator internals are welded and detachable parts which allow production separator separate media efficiently, required minimum retention period and minimum maintenance during operation. HC offers in-house design and fabrication of separator internals. Typical set of production separator internals consist of inlet diverter, calming baffles, coalescer packs, overflow baffle, vortex breaker, mix extractor, and sand jetting system (in case of high amount of solids and sands in the media.) HC Petroleum Equipment designs and fabricates production separators for variety application based on the client's requirements, as well as offering own serial production separator meeting client's expectation to output products. HC also can serve as general engineering company, adding both values in general design of equipment and facility and producing separator. In this scenario, the client may save both time and funds, decreasing cost price of whole oil & gas production facility.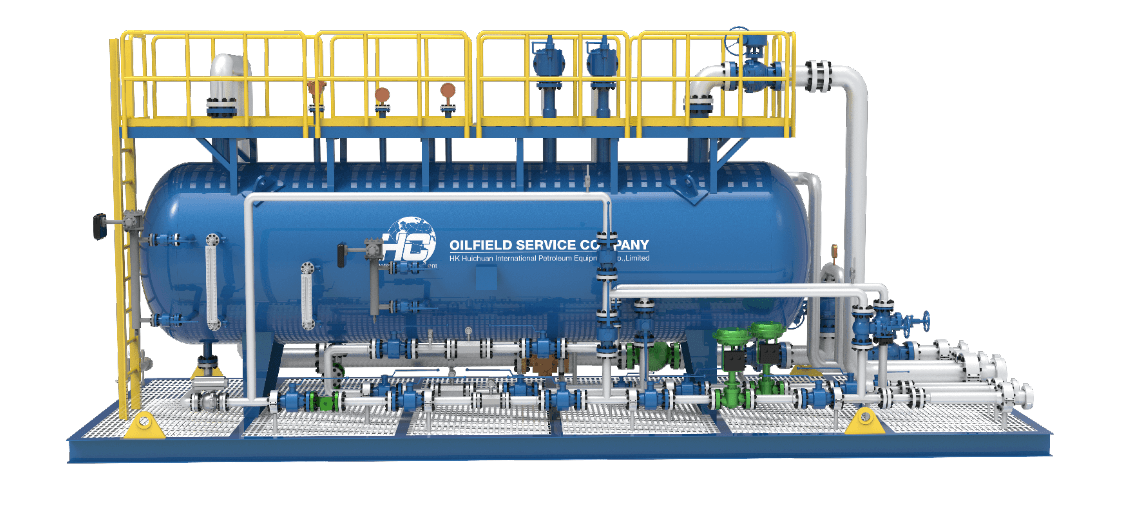 HC also offers heating systems for production separators with steam heating tubes or electrical heaters, increasing better separation efficiency and avoiding fouling inside of separator vessel and piping. This type of heated production separators is widely used in cold areas and heavy (waxy) oil applications. We also offer trailer-mounted production separator which is ideal solution for the oil & gas processor with high needs for frequent mobilization.
Two or three production separators are used in crude oil production facility like HP Production Separator, MP Production Separator, LP production separator (phase separation).
Production Separators are widely used in Early Production Facilities (EPF) along with other EPF equipment, such as Production/Inlet Manifolds or MSV Manifold, Water Jacket Heater or Steam Heat Exchanger, Vertical Surge Tank or Degasser Boot, Transfer Pumps, Booster Pumps, Desalter and Dehydrator, Loading Arms, crude oil storage equipment and custody transfer units. Natural gas (free gas or associated gas) is separated from production separator, surge tank / degasser, then flared in flaring system, which consists of KO drum and flare stack with automatic ignition system. Separated produced water is treated and reinjected to wells through injection wellhead assemblies. Some client may require natural flare gas recovery system to obtain valuable hydrocarbons from natural gas. In case of requirement for gas processing, additional NGL recovery unit and compressor may be the part of EPF. In case of high concentration of hydrogen sulfide (H2S), gas sweetening unit can be applied.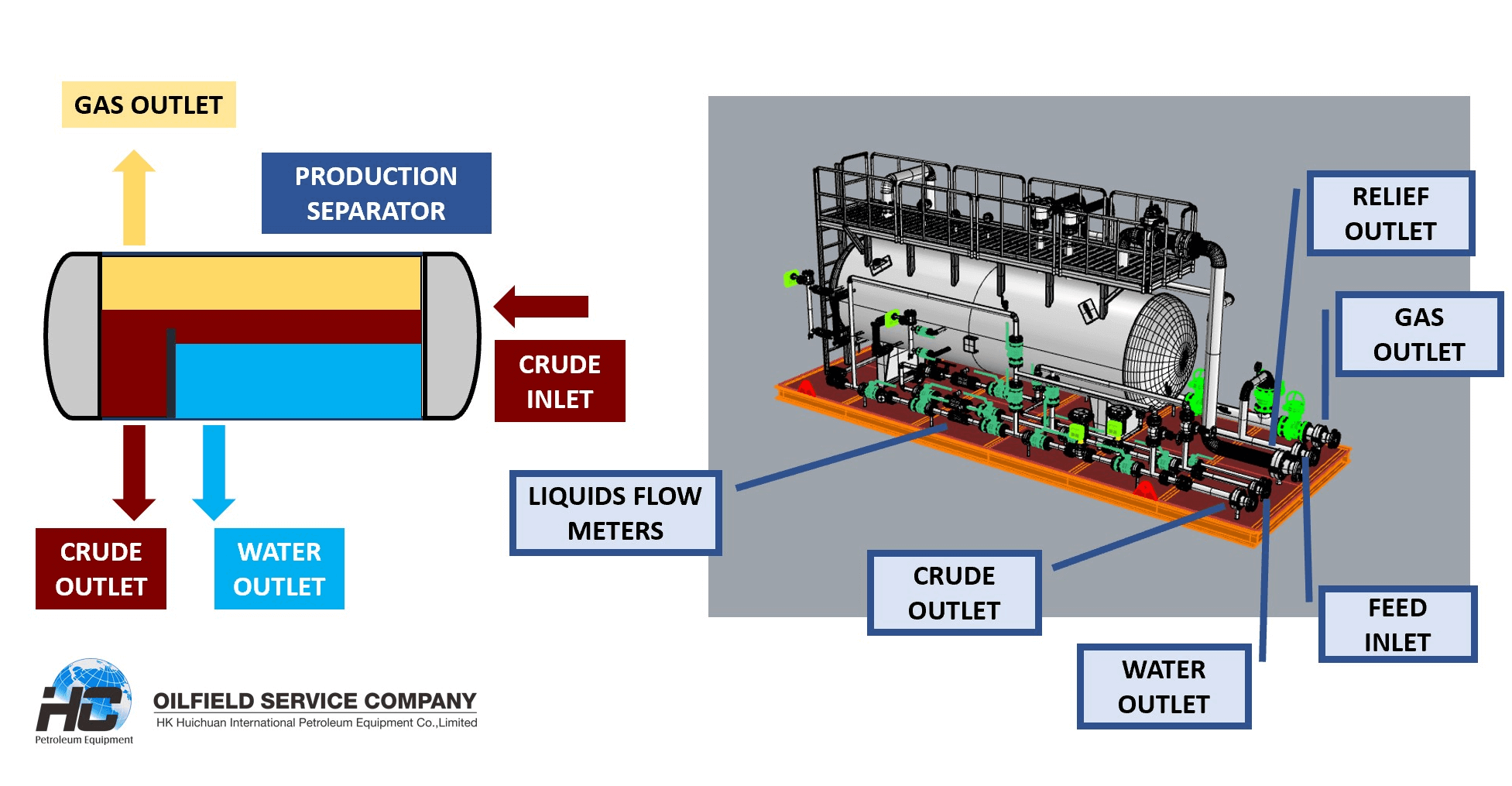 Features
· High separation efficiency
· Reliable components
· Process guarantee
· Mechanical / Digital Automation Systems
· Emergency shutdown system
· Self-contained skid
· Fast delivery period
· Cost-effectiveness
Basic Technical Specification of Production Separator
· Separator Vessel Diameter: 48 – 120 in.
· Separator Vessel Length (S/S): 16-30 ft.
· Pressure rating: 150 psi; 250 psi; 500 psi, 720 psi; 1440 psi.
· Liquid flowrate: 2000-7000 BPD
· Gas flowrate: 9-150 MMSCFD
Note: HC can design and fabricate production separators based on the requirements of the client with compliance to code & standard specified in technical requirements.
Code & Standards:
· ASME VIII Div. 1
· API 12J
· CE/PED
· NACE MR 0175
· ASME B16
· IEC
· GB150
· GOST