Filter Separator Skid or Filter Separator Module is a special natural gas pipeline unit designed to clean natural gas from solids and impurities as well as liquids that present in natural gas stream. Filter Separator Skid is used both in onshore and offshore natural gas compressor stations, gas processing plants, fuel gas conditioning systems, natural gas distribution and pressure reduction stations. HC's Filter Separator Skids consist of various components, such as filter separator body with quick-opening closure, filter cartridges and vane mist extractors, level gauges, level transmitters, control valves, differential pressure gauge and/or transmitter, pressure and temperature gauges, manual ball valves, pressure relief valves, inlet and outlet pipe branches (extension pipes), junction boxes (in digital control system), skid and steel structures.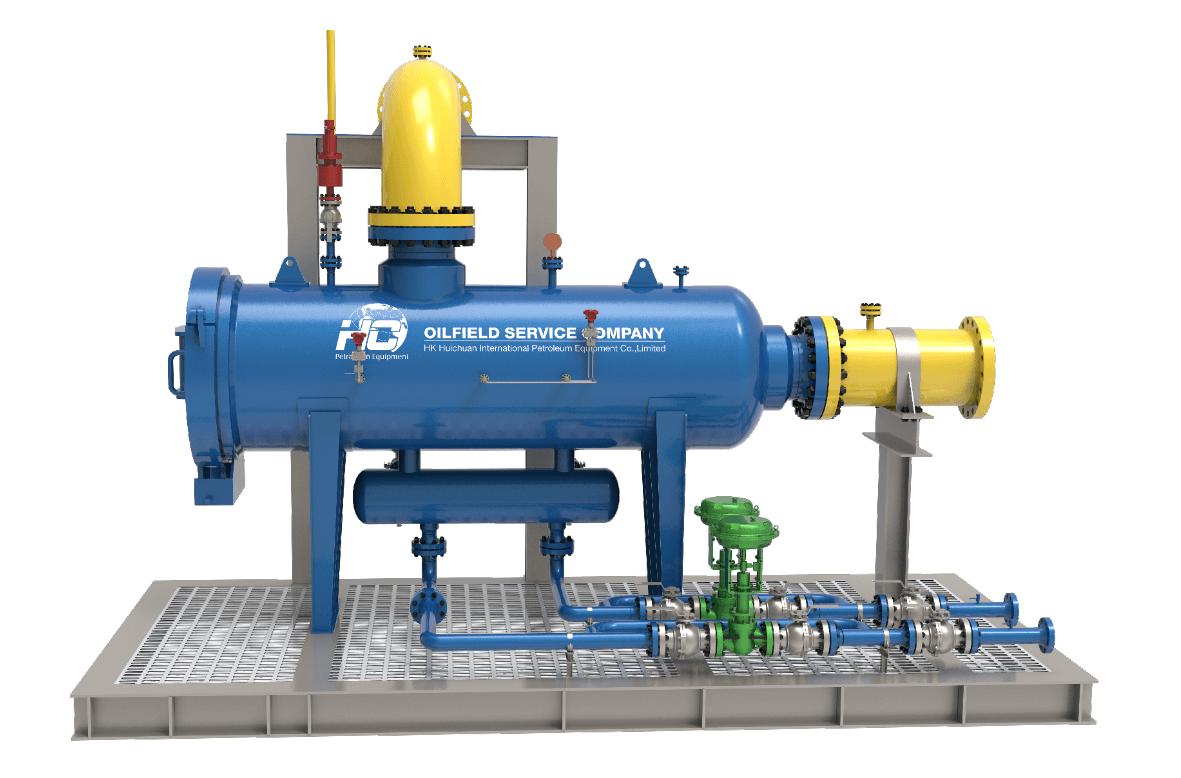 Pressure Vessel, piping and other components of the skid shall be designed considering many factors, such as pressure, temperature, composition, required separation solid filtering efficiency, required liquid separation efficiency, positions of the nozzles, position of internals, locations of all nozzles, operation and maintenance distinguishing characteristics, etc. HC offers both mechanical control and automation system and digital control and automation system. Different between mechanical and digital control and automation system is type of selecting valves and instruments.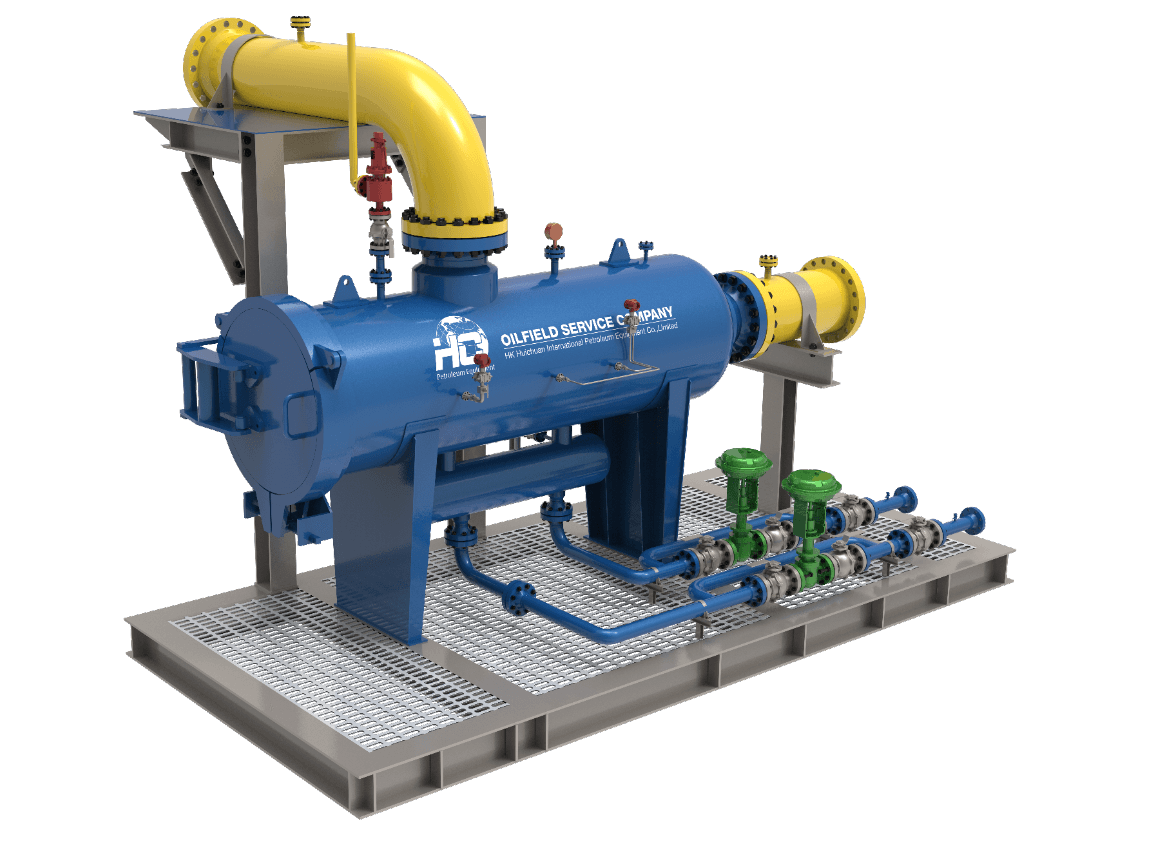 Because of operational distinguishing characteristics, some projects require filter separator to be thermally insulated. HC Petroleum Equipment provides filter separator modules with quality thermal insulation both for filter-separator vessel and piping.
The function of instrumentation is to monitor and control level, differential pressure, and temperature. In case of differential pressure increased, operator shall either clean or replace filter cartridges. When differential pressure reaches around 1.0, it is suggested to replace filter cartridges, while maximum allowable differential pressure is around 1.6 bar (without metal core) and 3.0 bar (with material core). Exact operational parameters will be specified in maintenance and operation manuals provided by HC. Valve and instrumentation manufacturer shall be confirmed with HC before concluding final commercial terms, as HC works with both world-famous brand manufacturers of valve and instruments, also with domestic high-quality brands.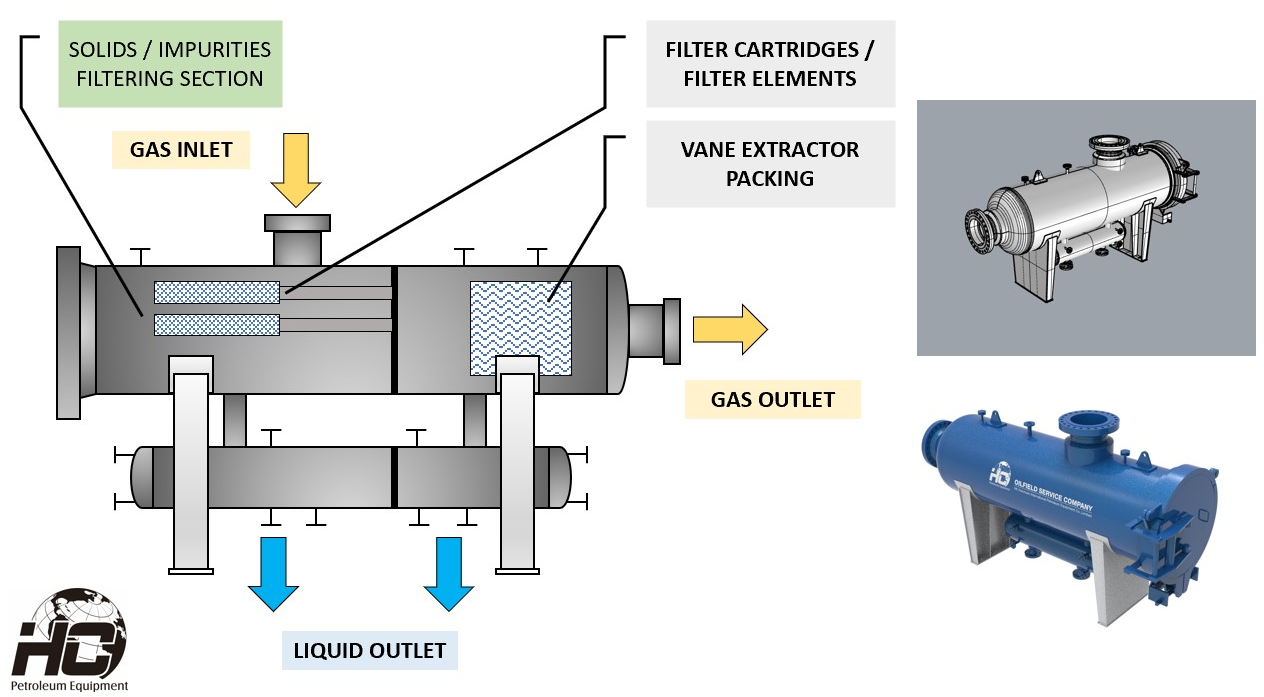 Filter cartridges (filter elements) of Filter-separator are made from polyester or polypropylene. HC supplies filter separator modules which contains either domestic brand filter elements or world-famous brand filter elements.
HC Petroleum Equipment is a professional manufacturer and supplier of filter separator modules from China. We ensure design and fabricate compliance with international, domestic, as well as client's code & standards. We ensure quality assembly and code-compliant testing, providing modules and standalone equipment within cost-friendly pricing range and comparatively short delivery period. Feel free to contact HC for more technical information on filter separator skid and quotation.
Code & Standards
· ASME VIII Div. 1/2
· ASME UV
· API 14C
· API 6D
· CE/PED
· NACE MR 0175
· ASME B16
· IEC
· GB150
· GOST
Features
· High filtering and separation efficiency
· Reliable and easily operated quick-opening closures
· Flanged or welded connection
· With manway or without
· Reliable components and internals
· Process guarantee
· Mechanical / Digital Automation Systems
· Self-contained skid with pipe branch supports
· Fast delivery period
· Cost-effectiveness
Basic Technical Specification of Filter Separator
· Separator Vessel Diameter: 8 – 42 in.
· Separator Vessel Length (S/S): 6-12 ft.
· Max. Pressure Rating: up to 1440 psi (~10 MPa)
· Gas flowrate: 2-220 MMSCFD
Note: HC can design and fabricate production separators based on the requirements of the client with compliance to code & standard specified in technical requirements.