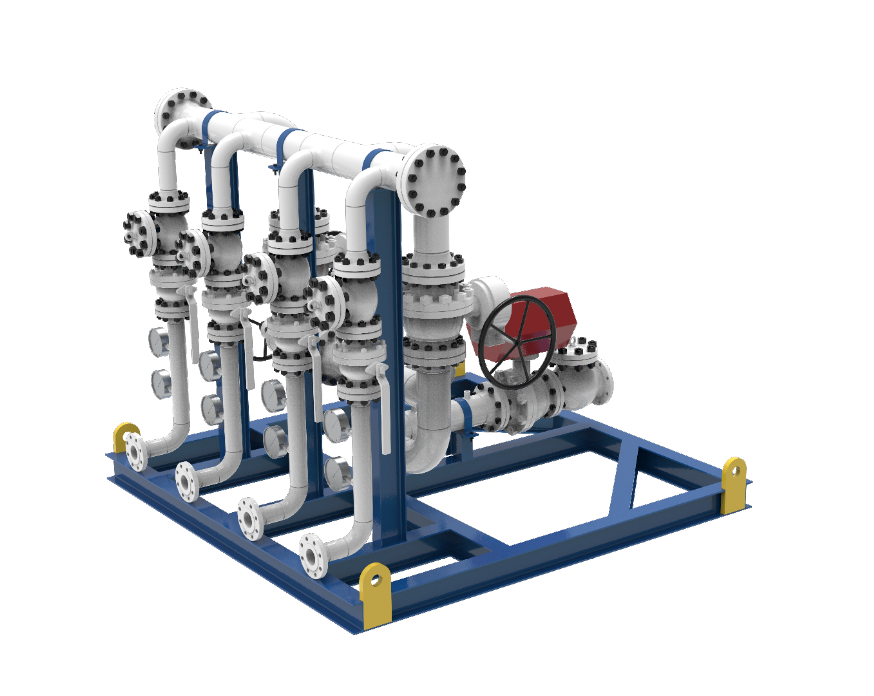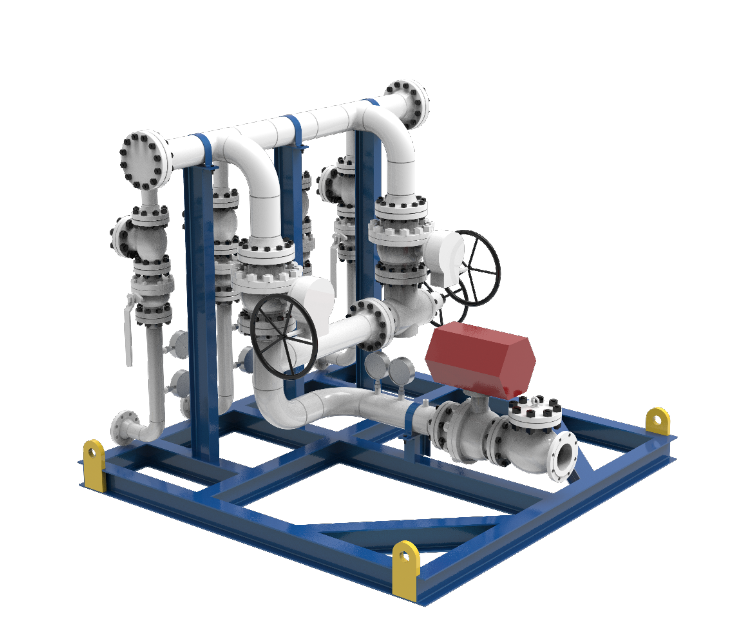 Production Manifold is designed to collect flows from multiple wells and divert to main production line of Early Production Facility. Production Manifold, also known as Inlet Manifold, consists of several valves, instruments, injection ports, flanges, hammer union or flanged connections, which are all installed on the skid for convenient transportation and field installation.
Configuration of production manifolds may differ based on the project requirements. Additional features to the production manifolds could be equipping with pressure and temperature transmitters, injection quills, sight glasses, Emergency Shutdown Ball Valve (ESD Valve) and other features based on the project conditions.
HC offers production manifolds both for mobile early production facility to receive flow from two to four wells. Also, HC supplies fixed and large early production facilities, which receive crude oil or natural gas from more than 8 wells. Production for mobile early production systems which handle liquids up to 10000 bpd, may accommodate choke valve to decrease pressure of the wells. Production manifolds are assembled in HC's workshop, tested, and inspected before painting and shipment. We conduct multiple tests and inspections to ensure that inlet manifolds operate properly at wellsite. Technical team of HC Petroleum Equipment consists of qualified and experienced process engineers, mechanical engineers, valve engineers, E & I engineer, who provide comprehensive solutions combing their skills and capabilities. Increasing market demand for complete solutions made HC diversify its technical team long time ago. This allows HC to provide comprehensive solutions for Early Production Facilities.
Some oilfield service companies, and hydrocarbon producers also employ Multiport Selector Valve (MSV) as part of inlet manifold component. HC also designs and supplies production manifolds with MSVs ensuring convenient well testing and production. Cold regions may require winterized production manifold with thermal insulation and heat tracing to avoid temperature drops, dew point loss, which cause blockage of pipelines and fouling pf crude oil pipeline. HC Petroleum Equipment provides solutions suitable for operating and environment conditions of oilfield. HC Petroleum Equipment is a manufacturer and supplier of production manifolds from China, feel free to contact us to receive technical solutions price for production manifolds.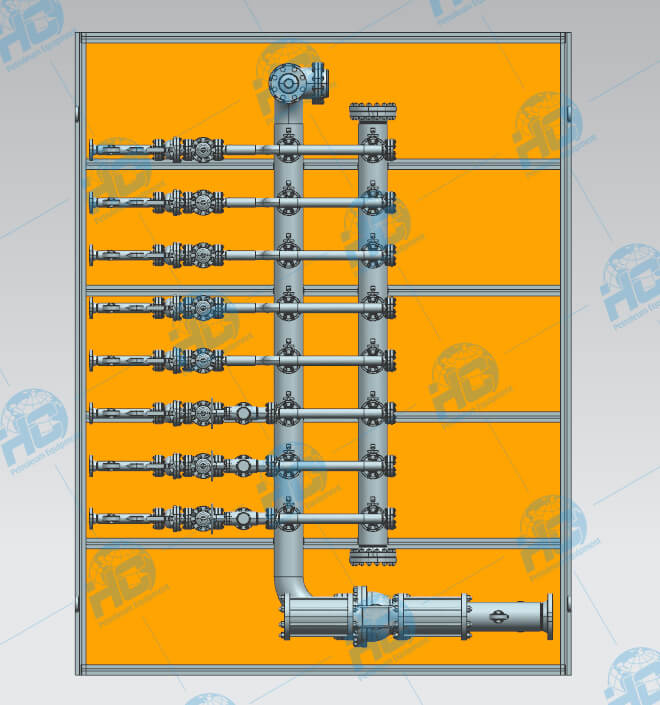 Features
· Self-contained modular skid
· Effective flow management
· Durable components
· Hammer union or flanged connections
· Thermal insulation and heat tracing
· Digital instruments to remote control and operation
· Compliance with international standards
Application
· Surface Well Testing
· Early Production Facility
· Mobile Oil Separator and Mobile Oil Trailer (MOS and MOT)
· Onshore facilities and Offshore platforms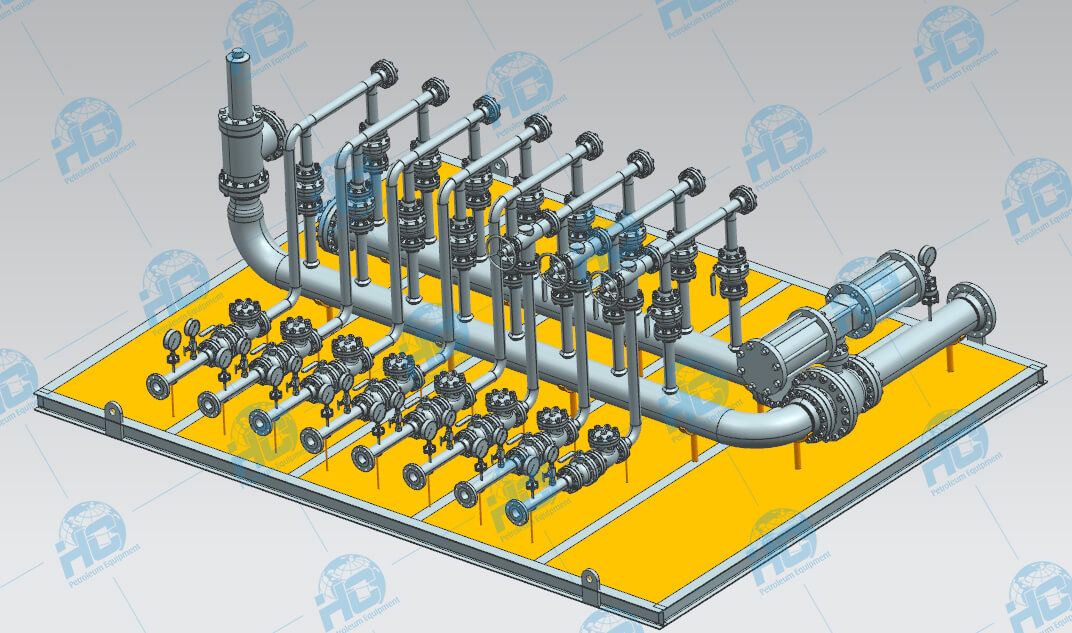 Main technical parameters
Pressure rating

150#

300#

600#

900#

Size of Inlet & Production Lines

2" x 4"

3"x6"

3"x8"

4"x12"

Number of wells

4-18

Construction material

Pipeline, flanges – carbon steel chosen as per operating conditions

Valve internals, instruments – stainless steel or special alloy

SMLS pipe

Forged steels

Forged or Casted Valve Body

Connection type

Hammer union

WN, RF/RTJ Flanged

Service

Standard

Sour

Codes & Standards

API 6D

ASME B16.34

ASME B31.3

ASTM / BS / JIS / GOST

CE/PED

ATEX

GB

NACE MR0175 / ISO 15156