HC Petroleum Equipment completed the design, fabrication, and supply of the mini mol. sieve gas dehydration unit for the CNG application. The project is located in Shengli oil & gas field with harsh environmental conditions. HC followed the performance, safety, transport, and mobilization requirements of the gas dehydration package and successfully delivered the package to the site. A mol. sieve gas dehydration unit is a very essential element of the CNG system, which requires the removal of water from the natural gas stream to avoid pipeline and upstream equipment damage due to the high content of water in the natural gas.
The package is designed for 1440 psi @ STD, and has thermal insulation, automation & control features. The package consists of two columns (A/B), filter, gas-liquid separator, heater, air-cooled unit, piping, instruments, and electrical. All items are mounted on the skid for fast-track installation, fast start-up, and mobilization from one field to another after a certain period of operation.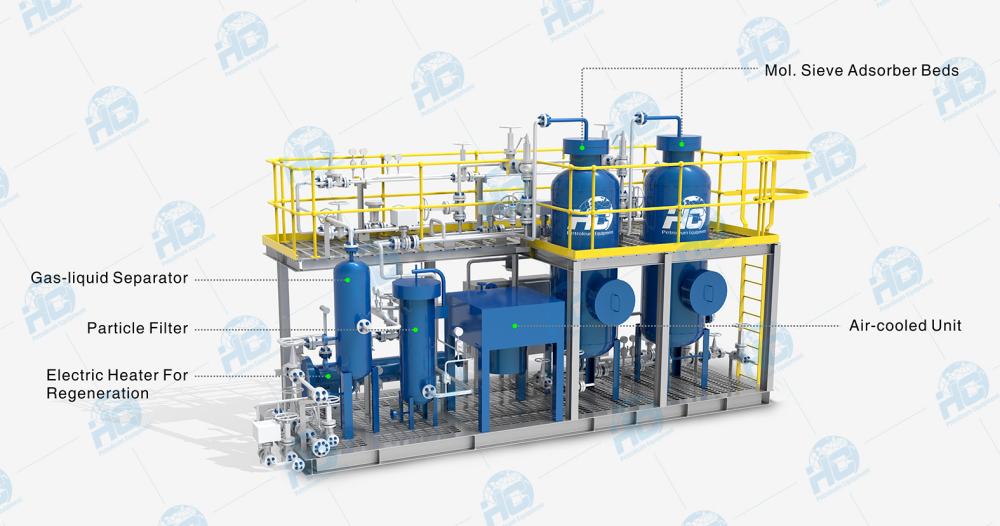 Brief Process Description
FEED gas enters adsorber columns with molecular sieve beds, which capture water, dehydrating natural gas. Dehydrated gas is discharged for the upstream system, while the bed shall be regenerated by high-temperature gas. The dry gas filters remove any particles or dust of the adsorbent bed carried with the stream. The electrical heater is part of the regeneration cycle, which increases the temperature of the gas for bed generation. After regeneration, high-temperature gas with water content passes through a condenser or air-cooled unit, which reduces the temperature of the gas and gas-liquid separator, removing liquid-state water.
Although the current package is for the CNG service, similar packages can be applied for LNG applications, usually modular mini-LNG plants, designed to utilize natural gas and ensure fast turnover of the investments. HC Petroleum Equipment designs and fabricates various gas-treatment and processing packages for NGL recovery, CNG, LNG, and other applications both for domestic and international markets. We follow international and commonly applied codes & standards, such as ISO, ASME, API, IEC, NFPA, NACE, DNV, etc. Feel free to contact us for more information and quotation.