Myanma Oil and Gas Enterprise (MOGE) is the biggest oil & gas company of Myanmar, headquarter located in Yagon hosted representatives of HK HUICHUAN INTERNATIONAL PETROLEUM EQUIPMENT CO., LTD (HC Petroleum Equipment) in December 2018.
Partied have discussed cooperation terms in exploration blocks in Myanmar and agreed on long-term cooperation on this market. HC Petroleum Equipment was placed an order for three-phase separator and still working on discussion on engineering and other equipment supply issues.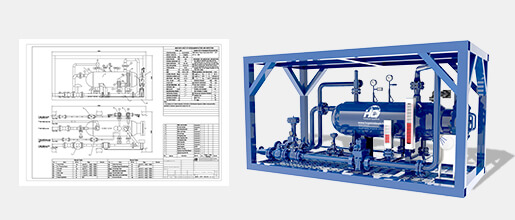 PROJECT PROCESS
Designed, manufactured and supplied Horizontal 3 phase separator as per GB/T150-2011 and TSG 21-2016 standard.
Before placing order, drawings with technical description was provided.
Customer conducted inspection of engineering and manufacturing facilities.
During the products, technical team of our company relied on GB standard with all required engineering, manufacturing, testing, marking.
Within the agreed time limit,3 phase separator were successfully delivered to the production side.