Molecular Sieve Gas Sweetening Unit is a special system designed to remove or reduce hydrogen sulfide (H2S) from natural gas stream by applying solid desiccants or adsorbents. Gas sweetening unit is one the gas sweetening processes to reduce H2S in natural gas stream. H2S is a toxic and corrosive non-hydrocarbon substance, which flows up from the wellhead with liquid and gaseous hydrocarbons. H2S shall be removed gas stream to protect pipeline, equipment, and personnel. HC Petroleum Equipment designs, fabricates and supplies high-efficient and cost-effective solutions for mol. sieve sweetening and dehydration.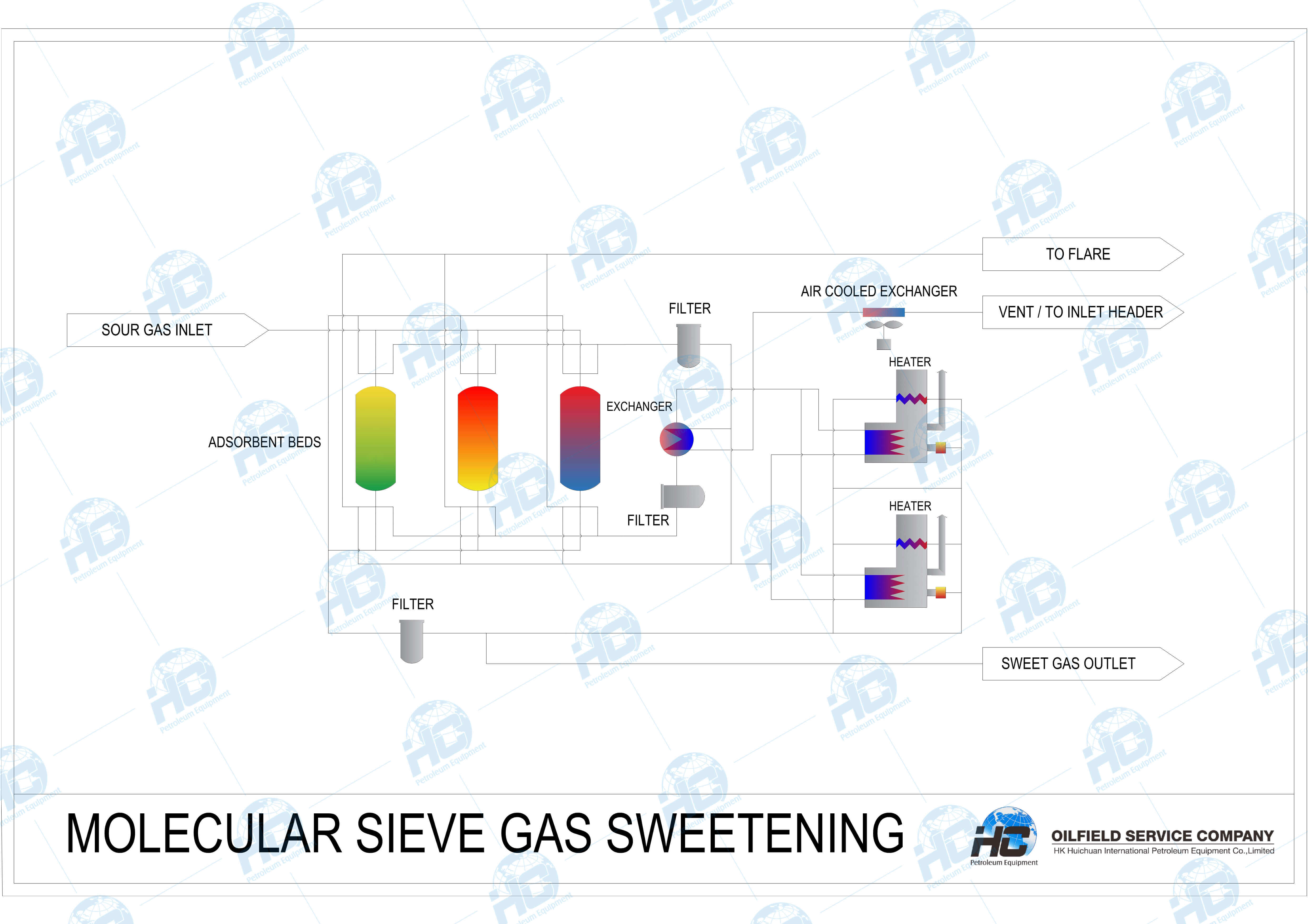 Molecular sieve or mol. sieve process is a very mature technology in gas treatment and processing, mol. sieve sweetening units consists of two, three or more columns filled with solid adsorbents, gas filters, and other associated regeneration equipment. Special solid desiccant, zeolite, is placed in columns. Sour gas (H2S-rich) gas comes in contact with zeolite, and special structure of zeolite captures hydrogen sulfide (H2S) in its porous structure. After inlet gas (sour gas) lost H2S, it becomes sweet gas, and sweet gas is discharged to further processing or disposal, such as dehydration, being fuel gas for turbines, etc. Sweet gas may contain very few amount dust and particles of adsorbent, these particles shall be removed by gas filter local on upstream of columns. Filters protect instruments, valves, upstream equipment and piping from short- or long-term damaging. As H2S is trapped in adsorbent bed, it shall be removed by hot gas. Hot gas is a sweet, which is heated by special direct fired heaters up to 315°C and discharged to spent bed (H2S-containing adsorbent bed). The hot gas picks up H2S and hydrocarbons as it flows upward through the bed, and is discharged to a flare system. This process is called bed regeneration. After regeneration, bed shall be cooled before bed accepts sour gas to repeat the cycle of gas sweetening.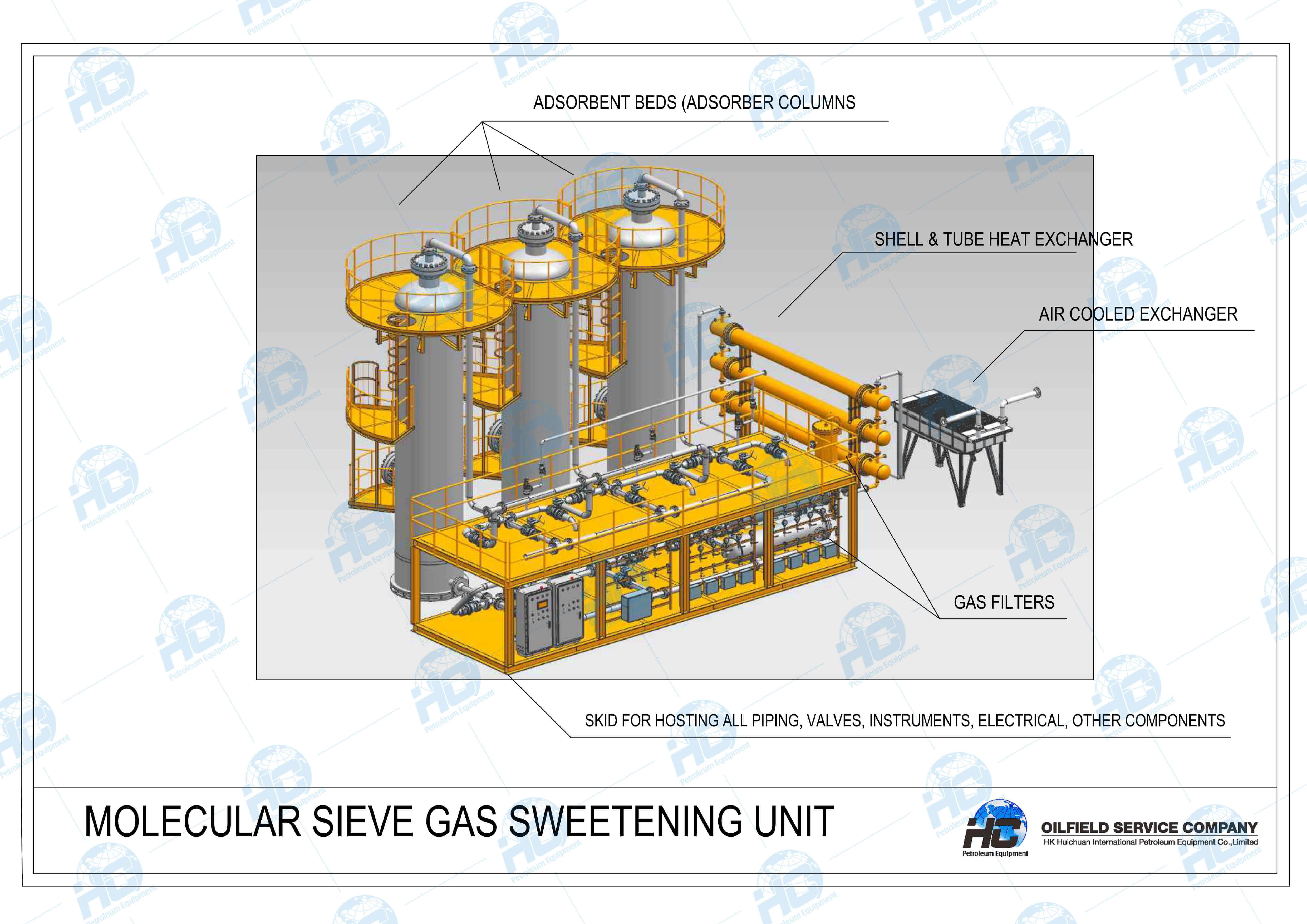 Typical composition of mol. sieve gas sweetening system:
· Inlet separator / inlet filter-separator
· Two or more adsorbent columns
· Solid adsorbent (zeolite)
· Sweet gas filters
· Heat exchanger
· Fired heaters
· Actuated and manual valves
· PSV and other safety devices
· Control and automation system
· Instruments
· Electrical
· Piping
· Steel structure
· And other auxiliary systems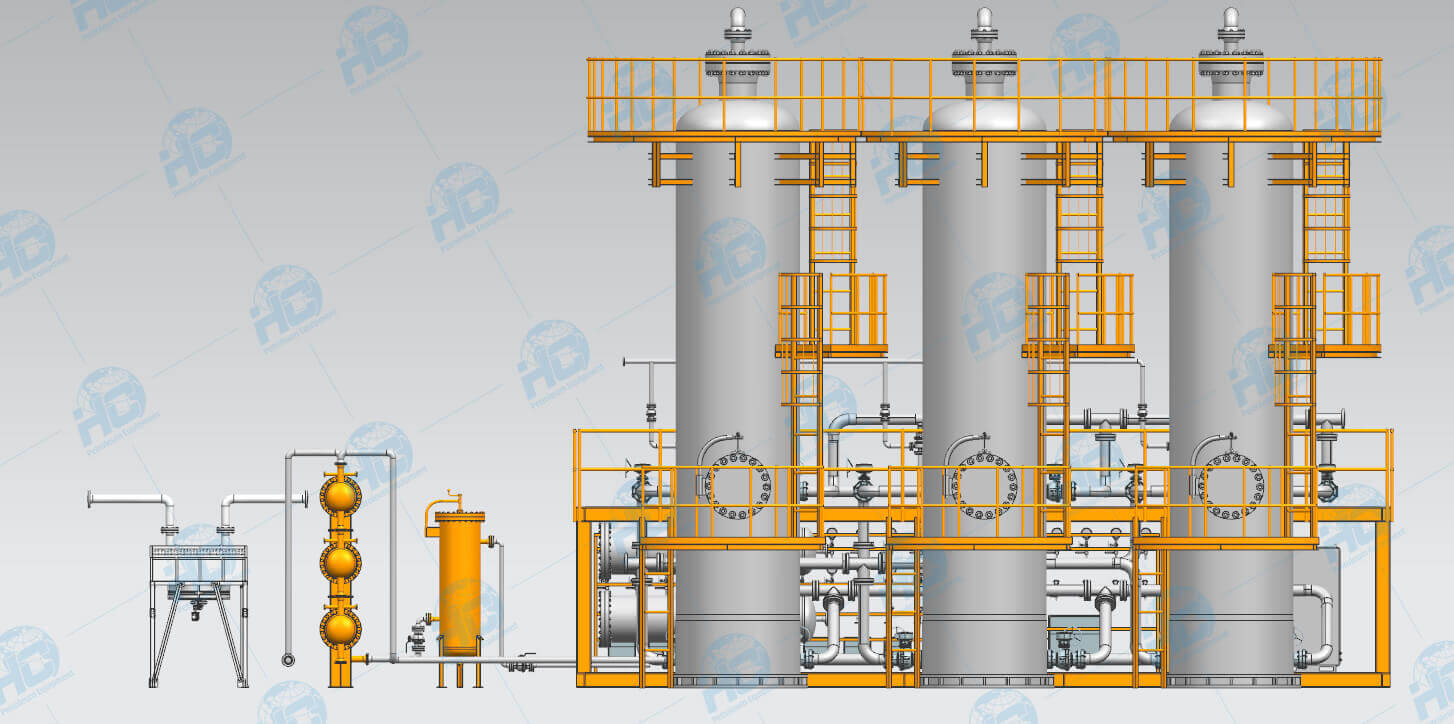 Feel free to contact HC Petroleum Equipment for more technical information, quotation, technical solution and support. We ensure price-wise solution, and guarantee both process and mechanical performance. We supply wide variety of solutions for gas sweetening, gas dehydration, mercury removal, NGL recovery, LNG, fuel gas conditioning and other services and products for oil & gas facilities.
Feel free to contact us to get technical solution and commercial offer.